Reviewed by Dana Toni Dieb vux V.
Verified Buyer
I recommend this product
Ok
I have not used it for so long, about 4 times. Now I have very light hair on my legs, and do not expect great results quickly, but it may take a little longer. But I still think that the hair does not grow as fast.
Good
Took time to get it home, but customer service was good and quick to respond.
Lexi skin v2.0
Fantastic product. Easy to use and it really works
How does Lexi Skin IPL work?
Light energy from Lexi Skin is absorbed by the melanin in the hair, which in turn generates heat to destroy the hair cells. This process inhibits the possibility of growing back hair from the hair follicle that you have treated.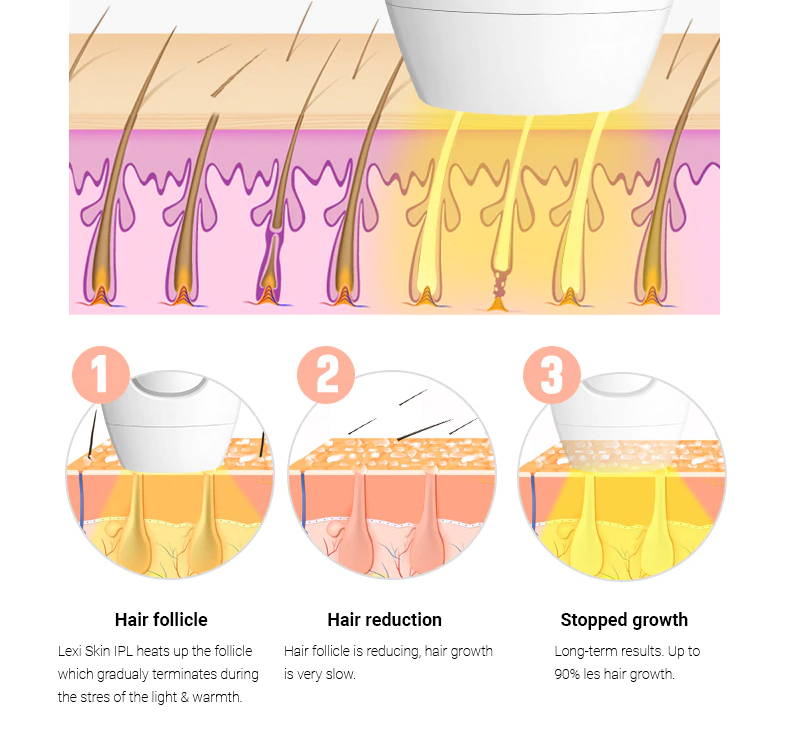 What is the difference between IPL and laser hair removal?
Both IPL and laser hair removal use light to generate heat, to destroy the hair from the root. The greatest difference between IPL hair removal and laser hair removal is the light spectrum used. IPL uses a wide range of wavelengths for light to produce one single white flash, while lasers use one wavelength light to create one single beam. This means that IPL is safe to use & more gentle to the skin.
Do you have any guarantees?
Yes we do! We have absolute confidence in providing you with the best IPL laser hair removal device in the world. That is why we are proud to offer our 90-day 100% money-back guarantee.
Can I buy now and pay later?
Yes! We offer Klarna to all our customers that Klarna support in their respective countries. Some countries cannot shop with Klarna.
One of the biggest advantages of IPL compared to other types of laser is that it is much less painful. Most customers explain the feeling as a warm feeling on the skin.
Will it work on sensitive skin?
Lexi Skin has been designed to be suitable for home use, so it is gentle on the skin. This means it also suits sensitive skin types! However, we always recommend testing your treatment first to see how your skin reacts.
How long does it take to see results?
Most clients begin to notice a reduction in their hair after just 3-4 treatments, with complete results after 12 treatments. But the results vary from person to person.
How often do I need to use it?
We recommend using your Lexi Skin once a week for the first 12 weeks. After this period, use your device once a month, for 3 months or until you are satisfied. To maintain hairless smooth skin, use your device once every two to three months, or as needed. There is no need to use it more than once a week, as IPL is only effective in the growing phase of your hair cycle.
Are there any side effects on IPL?
When using the handset as recommended, side effects are rare. Redness and swelling are the most common side effect of IPL, which quickly subsides after treatment.
What places on the body can I use it on?
You can use your handset from the upper lip and down. Never use the device near or to the eyes.
Do I need any eye protection?
No, it is not necessary to wear eye protection when using our device. Lexi Skin is equipped with a sensor and will not pulse and light unless the entire device is pressed against your skin. That said, never try to look directly into the light when it flashes
How many years does it last?
Lexi Skin has 500,000 flashes, which is enough flashes for about 10-20 years.
Do I need to shave before using it?
Yes, you should shave the desired areas before using the unit. The goal is for the light energy to reach the hair follicle as quickly as possible, so shaving in advance is crucial to achieving the best results. The hair follicle needs to be barely visible in order for IPL to be effective. This means no waxing, picking, threading, epilation etc.
What hair removal methods can I use between my own IPL treatments?
Between treatments you should only shave if needed. You should never wax, pick or epilate as these hair removal methods remove the entire root, which is what absorbs light during treatment.
Are there any other fees or costs?
No. This product is a one-time purchase. There is absolutely no need for replacements or refills.
Does Lexi Skin work for all skin tones?
IPL is suitable for everyone except the darkest skin tones. This is because the light energy can be attracted more to the pigments in the skin rather than the melanin in the hair. See the skin chart below to see if IPL is suitable for you or not.

Does IPL work for all hair colors?
IPL relies on melanin in the hair to absorb the light energy, and therefore IPL is not effective on very light blonde, red or gray colored hair.
Can I use Lexi Skin while pregnant or breastfeeding?
Although there is no evidence to show that IPL has adverse effects on pregnant or lactating women, we still do not recommend using our handset as a precaution.
Can I use Lexi Skin over freckles and birthmarks?
You should not use Lexi Skin over very dark freckles or birthmarks. Bright, light freckles can be used on.
Can I use Lexi Skin over tattoos?
You should not use Lexi Skin over tattoos. The light energy will be attracted more to the pigments in the skin rather than the melanin in the hair which can cause a reaction in the skin and blisters. You should always go around your tattoos.
Can I use this product before or after tanning in the sun?
If you have recently tanned, we recommend that you wait 2 weeks before using the unit. You should wait 48 hours to tan after using your handset. The same goes for tanning beds. We recommend that you remove all artificial tan before using Lexi Skin, as the light energy may be more attracted to the pigments in the skin rather than the melanin in the hair. You can reapply your tan without sun after your treatment.
Does it remove hair permanently?
Although IPL treatments will permanently reduce the total number of body hairs, they will not result in permanent removal of all hair on the entire body. The IPL "burns" your hair follicle, preventing the hair follicle from growing again. The body creates new hair follicles, therefore you treat several times, and after 12 weeks you can treat after desired results, or nothing at all, depending on your results.
Definitely! Our unit is suitable for both men and women.